Main content starts here, tab to start navigating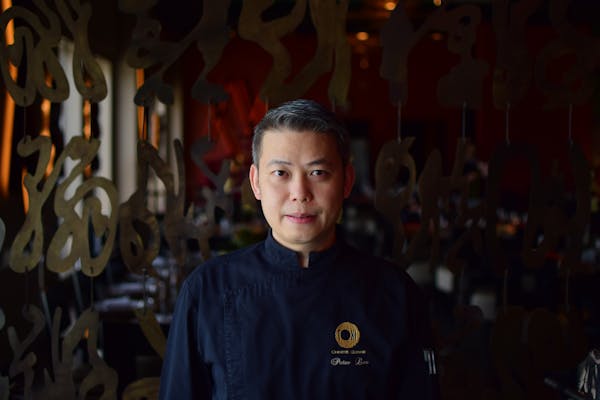 Chef Peter Lau Chee Wei
Executive Chef
The great Roman orator Cicero once wrote: "Natural ability without education has more often attained to glory and virtue than education without natural ability".
As a 17 years old, a fresh out of school, young Chinese boy named Lau Chee Wei, was working as a waiter in his hometown Ipoh, in Northern Malaysia and had probably never heard of Cicero nor would he know that 20 years later he would become a highly sought after award-winning Chef creating masterpieces savored by Royalty, Captains of Industry, celebrities or world traveled gourmets.
Lau Chee Wei accepted a job offer in the Sultanate of Brunei on his 18th birthday, fresh out of school and armed with only that little experience gained from his stint as a waiter, started work in a hotel, not really knowing that this overseas move would shape his career.
Upon his first week at work, a strict, towering figure commanding respect and displaying the authority of a dictator changed his world forever; it was the Hotel Executive Chef.
He knew then what he wanted to become, asked for a transfer to the kitchen department and started learning the trade; the rest is history.
Lau Chee Wei rose through the ranks gradually for the next 10 years working in some of the best restaurants in Singapore gathering experience in Cantonese, Teo Chew, Malaysian and Singaporean cuisines.
When Chinese Celebrity Chef Leong Chee Yeng came to Singapore to recruit his key assistants for the opening of now-famous Zheng He at Mina A' Salam, Madinat Jumeirah in Dubai, it was the opportunity Lau Chee Wei was waiting for.
Under the guidance of the Master Chef, he would be exposed to modern Chinese cuisine and the rigorous expectations of a selective and critical clientele. During this four-year stint, Lau Chee Wei would learn the English language and go on to win his first awards, The Time Out Dubai "Best Chinese Restaurant" for 2006 & 2007.
Now geared with a strong traditional cuisine background and having immersed himself into the new world of contemporary cuisine in the very competitive environment that is Dubai, it was only a matter of time before Lau Chee Wei, from then on referred to as Chef Peter, would be earmarked for the top job at the about to be opened 5 star Raffles Hotel Dubai. Given the charge of The Noble House and a free hand in the running of the kitchens, he went on to build a strong reputation for serving fine modern Chinese cuisine.
In less than a year, his restaurant won the 2008 Time Out Dubai "Best Restaurant of the year", "Best newcomer" and " Best Chinese Restaurant", taking Dubai culinary scene by storm and beating restaurants run by Gordon Ramsay, Pierre Gagnaire or Gary Rose on the pecking order.
The Raffles organization recognizing the talent in Chef Peter gave him additional responsibilities and opened a Far Eastern cuisine dining room, the Asiana Restaurant, serving Indonesian, Japanese, Thai, Malaysian, Singaporean and Vietnamese cuisines and a Chinese lounge and restaurant, the Red Lounge Terrace.
In late 2010, as the Leylaty Group of Restaurants was in search of a star Chef to elevate its Chinese restaurant concept to a new level, Chef Peter's name came to the forefront of the shortlist and was convinced to ply his trade in Jeddah and share his cuisine with the Saudi elite, bringing with him a team of Chinese Chefs that were already collaborating on the Dubai project, amongst them a specialty Dim Sum Master who is known for his outstanding creations.
Being true to his culture and close to his roots, Chef Peter embodies the passion for refinement and authenticity. In his own words, he describes his cuisine as being "traditional in taste and contemporary in design", blending 1000 of years of Chinese heritage with the requirements of today's world, encompassing flavors, presentation, and originality.
He describes his passion for food as an obsession for perpetual excellence and the drive to share his love for food in an unexpected marriage of technique, research, and quality ingredients.